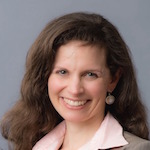 Taiya Smith is a highly-regarded China expert who regularly advises top government officials, leading companies and nonprofit institutions on their China strategies. She has a proven track record of achieving concrete results in difficult geopolitical and geo-economic environments. As a Managing Partner at Garnet Strategies, LLC, an international strategic advisory firm, Smith advised clean technology companies and nonprofit institutions on opportunities for growth in China and the United States. She is a regular speaker on China's role in the world, China's impact on clean energy and climate change, and the U.S.-China relationship.
Previously, Smith served as a member of Secretary Hank Paulson's senior management team at the U.S. Department of the Treasury. In this capacity, she was the principal advisor to the Secretary on the U.S.-China relationship and the key force behind designing and managing the U.S.-China Strategic Economic Dialogue (SED), which has been the highest-level regular dialogue between the two governments. She led the coordination efforts within the U.S. government and negotiated with the Chinese on behalf of more than eight U.S. agencies.
Working with her team at Treasury, she established the U.S.–China Ten Year Framework on Energy and the Environment and the EcoPartnership program, both of which served as the platform for U.S.- China cooperation on climate change. Following her government service, Smith was a Senior Associate for the China and Climate Change programs at the Carnegie Endowment for International Peace and a Senior Advisor to the United Nations Foundation leading its work on climate finance.
Smith also served as special assistant to Deputy Secretary of State Robert B. Zoellick and was Zoellick's policy adviser for Africa, Europe, and political/military affairs, including U.S.-EU relations, energy security, and U.S.-Sudan policy. Prior to that, Smith was the State Department's point person on Darfur, spending much of her time in Darfur working with international donors, the Sudanese government and rebel factions. She started in government in 2003 as a Presidential Management Fellow in the State Department's Bureau of Population, Refugees and Migration based in Washington, Ghana, and Cote d'Ivoire. Prior to joining the government, she served as a member of the facilitation team for the Burundi Peace Negotiations led by Nelson Mandela.
Smith holds a B.A. from Wesleyan University and a M.P.P. from the Kennedy School of Government. She is a member of the Council on Foreign Relations and the National Committee on United States-China Relations.