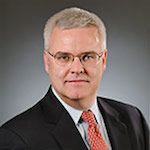 David Bailey has 35 years of experience managing energy-related issues around the world. He has worked at literally every level of the coal and oil and gas industries, from the UK National Coal Board during the economic and labor upheavals under the Thatcher government to responsibility for ExxonMobil's climate policy.
Mr. Bailey's career in the oil industry began in 1989 with Mobil UK. He worked on the creation of a Europe-wide joint venture with BP, oversaw Mobil's EU relations activity in Brussels and managed community and economic challenges and business expansion projects in Norway, Saudi Arabia and Nigeria. Moving to the US in 1998, he worked first on the Exxon-Mobil merger and then in a series of assignments in every part of the merged companies' energy businesses, at corporate HQ and finally in the company's DC office. He managed the full range of energy policy and climate issues both domestically and internationally, as well as multiple organizational redesign and crisis response projects. He has been involved in worldwide policy debates and advocacy on climate issues since 1998. He retired from ExxonMobil as climate policy manager at the end of 2012.
Mr. Bailey is a graduate of Oxford University. He teaches a course on the energy transition for the master's program at Georgetown University's Walsh School of Foreign Service. He was previously an adjunct fellow at the Niskanen Center. He has served on the boards of the World Affairs Council of America and the National Foreign Trade Council, as well as the State Department's International Advisory Committee on Economic Policy.