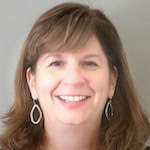 As Chief Financial Officer, Simone Frank is responsible for assisting the organization with its day-to-day business, legal, financial and administrative operations. Ms. Frank has over 25 years of financial management experience, including banking, investment banking, strategic planning and operating finance. Ms. Frank is also a Senior Advisor for the Committee for a Responsible Federal Budget, a fiscal policy institute.
Prior to assisting the Climate Leadership Council, Ms. Frank was the Vice President of Finance and Operations for the New America Foundation for 10 years. Ms. Frank also served as Chief Financial Officer for Best Doctors, Inc., as a Senior Director of Finance for Marriott International, and as Finance Director for various operating divisions of Tricon Global Restaurants and PepsiCo, Inc. In addition, Ms. Frank spent six years in banking as an Associate in mergers and acquisitions for Manufacturers Hanover Trust and as an Assistant Vice President for Den Danske Bank.
Ms. Frank earned her bachelor's degree in Commerce from the University of Virginia and a master's of business administration from Northwestern University's Kellogg School of Management.